About USA 11 Stars and Stripes America's Cup Yacht

With her bold styling and amazing speed, the America's Cup yacht Stars and Stripes was considered a state-of-the-art boat when she was introduced back in 1992. In 1992 the International America's Cup Class (IACC) of yachts was introduced, replacing the 12-meter class that had been used since 1958. Designed by David Pedrick and Bruce Nelson and built by Eric Goetz in Rhode Island, Stars & Stripes, USA-11 was Dennis Conner's first IACC boat.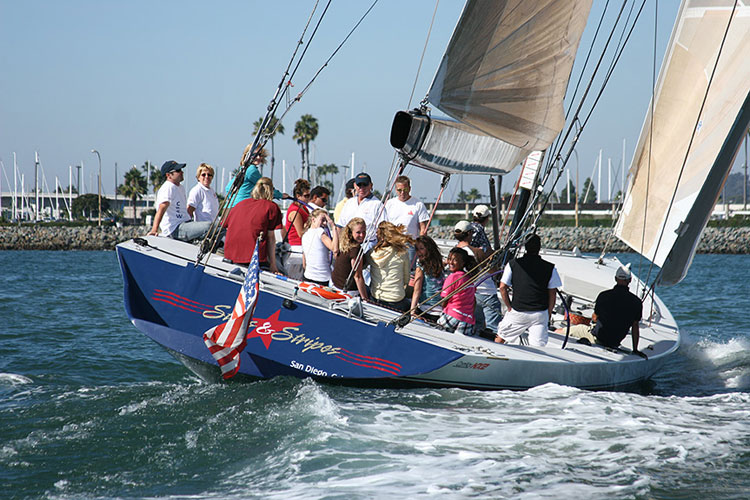 Stars & Stripes (Team Dennis Conner) is the name of an America's Cup syndicate operated by Dennis Conner and its racing yachts. The name "Stars & Stripes" refers to the nickname often used for the flag of the United States. TDC was registered under the flag of the San Diego Yacht Club (SDYC). Conner was outspent nearly 10 to 1 by billionaire businessman Bill Koch and lost in the finals of the Defense Series (the Citizens Cup) to America3. Bill Koch then went on to compete against the Italians with their boat Il Moro and won.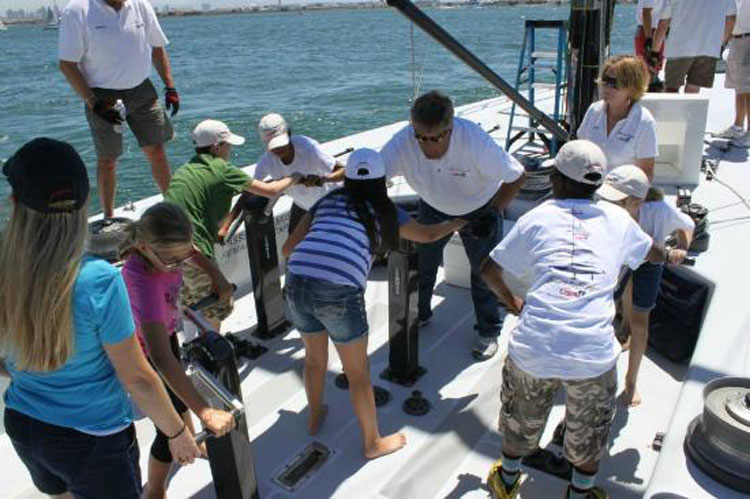 USA-11 was used by Dennis Conner in his 1995 campaign as a trial horse and then sold to the US Virgin Islands America's Cup Challenge to be used in the 2000 America's Cup races. After surviving several hurricanes, including one that sunk her, USA-11 was purchased in 2002, shipped to Miami to be completely refurbished and then sent across the country to be part of the San Francisco Challenge Series fleet. In 2006, Steve Pattison and Mark Niblack bought her and brought her home San Diego.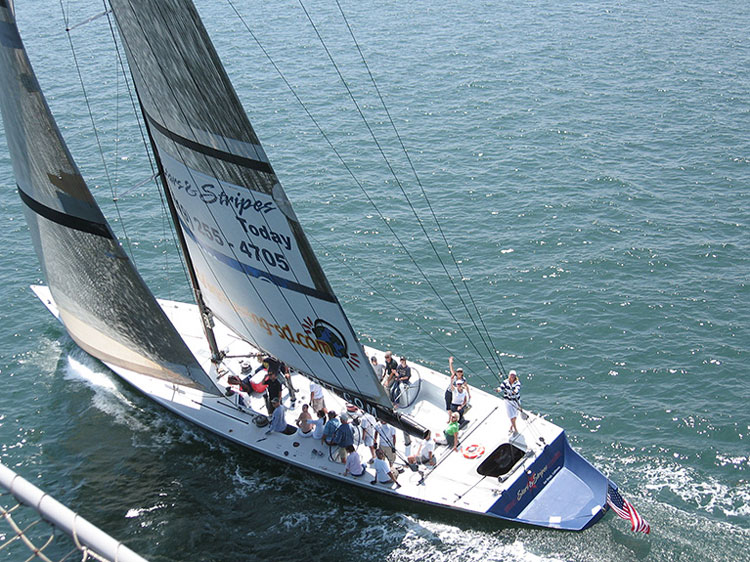 10 Reasons Why a Team Building Group Sailing Charter in San Diego is the Best Boat Charter Activity

1) A group sailing charter has the Biggest (and most beautiful!) playing field in the world: the ocean!
2) Everyone from elementary schoolchildren to grandparents can enjoy this fun and exciting sailing charter around the bay!
3) A sailing charter can be relaxing, adventurous, thrilling, and educational… No matter what you make it, it's always fun.
4) With a vast array of sailing charters and different kinds of boat charters, you'll never get bored!
5) A Group Sailing Charter is a great way to build team spirit and adopt new perspective.
6) … And it's hard to beat the opportunities for travel and exploration across the globe.
7) A Yacht Charter is the perfect activity to share with family and friends of all ages
8) The yachting community is fantastic, and you're bound to meet wonderful boaters no matter where you go
9) You'll get a chance to see wildlife like whales, dolphins, and sea lions closeup!
10) Finally, a group sailing charter will without a doubt bring more happiness into your life.
The Stars and Stripes Team Building Adventure
Sail San Diego Bay on the Authentic 1992 America's Cup Racing Yacht

Top Trip Advisor ranking for Boat Tours in San Diego.

Completely restored, pristine condition, and FAST!!!

Three full hours of interactive and exciting FUN sailing San Diego Bay!!!

Public and private sailboat sails in San Diego as well as corporate TEAM BUILDING events

Complimentary water, soft drinks & snacks during and after the sail

Complimentary photos & videos for viewing after the sail on the bay and future downloads

Located at the beautiful Kona Kai Resort & Spa on Shelter Island with plenty of FREE parking.

America's Cup Sailing souvenir gift shop.

No sailing experience necessary, but not suitable for children under the age of 5.
SAIL USA-11 is designed for individuals or groups of up to 25 passengers that would like to join us
for an exciting sail on the San Diego bay aboard Stars & Stripes USA-11. We welcome you and can often
accept reservations on short notice
Charter this boat with a Captain up to 24 persons for a private three hour cruise.
PRICING FOR OUR AMERICA'S CUP SAILBOAT
Individual Passenger - $125
Private Charters 18 - 24 passengers starting at $1,800

Advanced Purchase Required Cruises Sell out Quickly
Check Availability and Buy Tickets Online
Call Us Today: (619) 887-5443